Mohammed Ramadan and Hussain Ali Moosa are currently at imminent risk of execution. They were sentenced to death in December 2014 for their alleged involvement in the explosion in al-Dair on 14 February 2014 that resulted in the death of a policeman.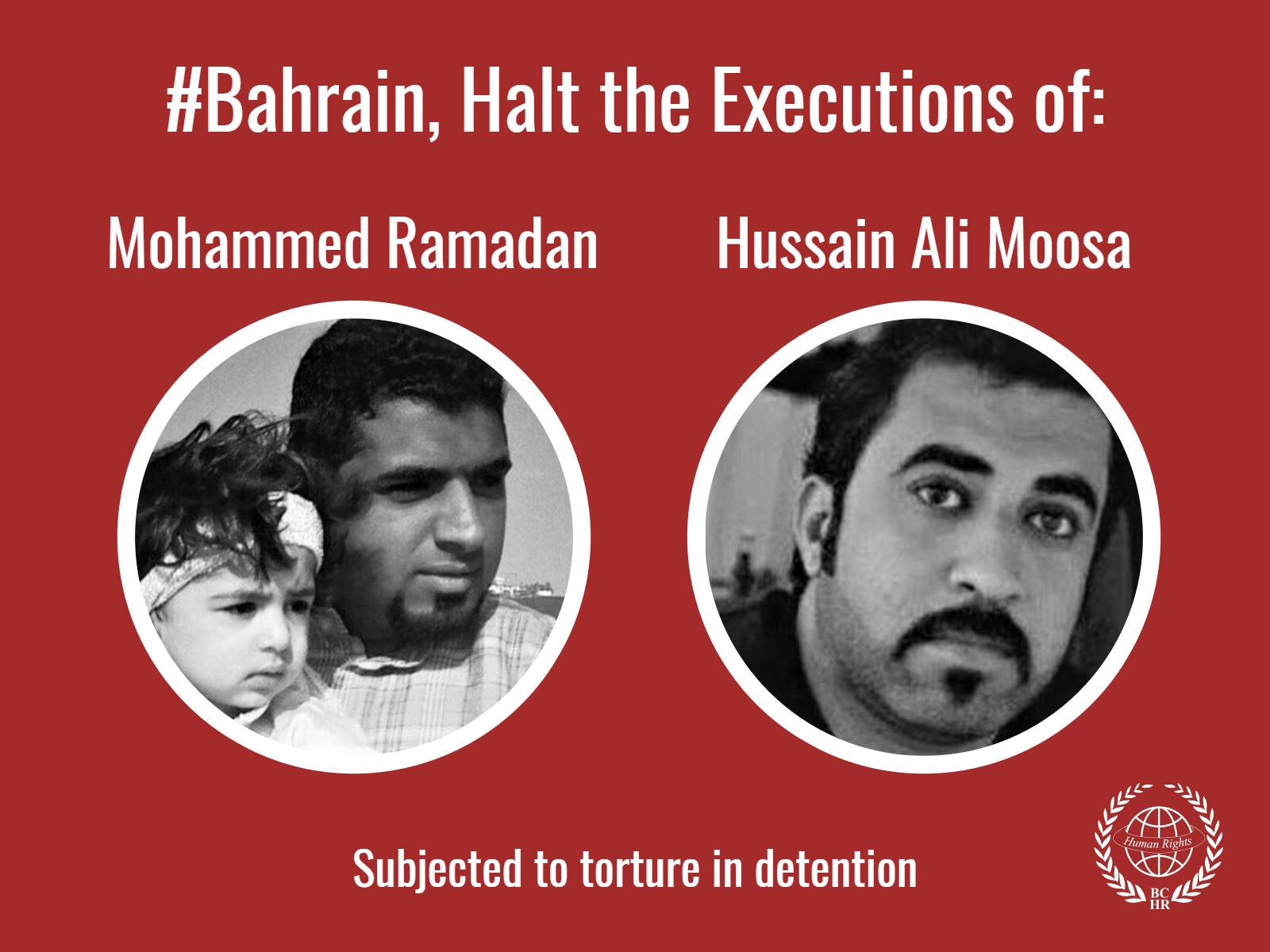 They took the judgement to the Appeals Court, on the grounds that they were falsely accused, tortured and coerced to confess to a crime they hadn't committed.
On 16 November 2015 Bahraini Court of Cassation rejected their final appeal and upheld their death sentence. The two men are at imminent risk of execution, pending the King Hamad's approval.
Call for Action
Show your support and tweet: We urge the King of #Bahrain to immediately halt the executions of Mohammed Ramadan & Hussain Ali Moosa, and drop all charges.
Support Amnesty's campaign and Reprieve's call for signature here.
Arrest and Torture
On 20 March 2014, Bahraini security officers arrested Mohammed Ramadan without presenting an arrest warrant. The government took him to the General Directorate of Criminal Investigation (CID) building without informing his family of his arrest. Upon arrival, Ministry of Interior (MOI) employees reportedly threatened Ramadan with torture if he did not confess to being a traitor. Shortly thereafter, officers began torturing him.
Mohammed Ramadan was reportedly subjected to sustained ill-treatment and torture for more than four days. Ramadan alleges that security officers had violently beaten him on his hands, feet, body, neck, and head. In order to stop the torture, Mohammed agreed to "confess to anything." Ramadan claims he was then informed that the government knew he was not involved in the charges against him, but that his participation in protests and other political activities made him a traitor and therefore he deserved to be sentenced for his crimes. When Ramadan attempted to explain that he was forced to sign the false confession to a judge, the court remanded him to Riffa Police station for 13 days, where he was reportedly blindfolded, tied up with belts, and tortured once again.
Security forces arrested Hussain Ali Moosa one week after the al-Dair bombing. He was detained at the CID, where he claims security officials hung him from the ceiling for three days while beating him with batons. Moosa reports that CID officers threatened to harm his relatives and fabricate cases against them, and threatened to rape his sisters. Moosa confessed to being involved in the al-Dair bombing in order to escape torture. Three days later, CID forces transferred Moosa to the Office of the Public Prosecutor, where he recanted his confession. As a result, he was again transferred to the CID, where security forces allegedly tortured him for three months.
While Moosa and Ramadan were the only defendants in the case who received the death penalty, ten others were tried in connection with the Al-Dair bombing, nine of whom received six years' incarceration and the last receiving life in prison. The defendants state that the court relied substantially upon the confessions obtained through torture, casting significant doubt on the veracity of their convictions.
At the time of their initial sentencing, Ramadan's lawyer, Mohammed al-Tajer, stated, "Although the defendants emphatically claim that their confessions were extracted under torture, Bahrain's courts failed to consider their claims or even open an investigation. Instead, the Bahraini judicial system utilized its anti-terrorism law to justify the death penalty in a case with no concrete evidence of their guilt, but abundant evidence of ill-treatment, torture, and politically motivated charges."
Bahrain has executed another three torture victims on 15 January of Sami Mushaima, Ali Al-Singace and Abbas Al-Samea, the first since 2010, which makes the risk of further executions higher.
International reactions following the execution:
International calls to halt the execution of Ramadan and Moosa
On 4 February 2016, the European Parliament adopted an Urgent Resolution in the case of Mohammed Ramadan, also citing the case of Husain Ali Moosa. The resolution aimed at reminding the Bahraini government that "Article 15 of the Convention Against Torture and other Cruel, Inhuman or Degrading Treatment or Punishment prohibits the use of any statement made as a result of torture as evidence in any proceedings".
On 2 June 2016 Members of the European Parliament wrote a letter to the EU High Representative, Federica Mogherini, calling for action on the part of the European External Action Service, in order to ensure their release and drop of all charges against the two victims of torture
On 25 January 2017 UN Rights experts Ms. Agnes Callamard, Special Rapporteur on extrajudicial, summary or arbitrary executions, and Mr. Nils Melzer, Special Rapporteur on torture and other cruel, inhuman or degrading treatment or punishment, "appealed to the Government of Bahrain to spare the lives of Mohammad Ramadan and Hussein Moosa, who are at risk of imminent execution, and to ensure a re-trial of the defendants in compliance with international standards".
On 16 February 2017 the EU Parliament passed a resolution on the executions in Bahrain. It "deeply deplores the decision of Bahrain to return to the practice of capital punishment; reiterates its condemnation of the use of the death penalty, and strongly supports the introduction of a moratorium on the death penalty as a step towards its abolition". It calls on "His Majesty Sheikh Hamad bin Isa Al Khalifa of Bahrain to halt the executions of Mohammed Ramadan and Husain Ali Moosa, and on the Bahraini authorities to ensure a retrial in compliance with international standards; recalls that all allegations of human rights violations committed during the proceedings must be duly investigated" and calls on the government of Bahrain to "issue an immediate and open invitation to the UN Special Rapporteur on Torture and Other Cruel, Inhuman or Degrading Treatment or Punishment to conduct a country visit, and to allow unfettered access to detainees and to all places of detention".
Finally it "calls on the Bahraini Government to fully implement the recommendations of the Bahrain Independent Commission of Inquiry (BICI) report, the Universal Periodic Review and the National Institute for Human Rights".
Call for Action
Show your support and tweet: We urge the King of #Bahrain to immediately halt the executions of Mohammed Ramadan & Husain Ali Moosa, and drop all charges.
Support Amnesty's campaign and Reprieve's call for signature here.