26 May, 2014
Bahrain: Update: Al-Ghasra and 8 Others At Serious Risk For Torture
--Update 26/05/2014--
Yesterday, 25 May 2014, Redha Al-Ghasra's family was able to visit Redha in prison for the second time since his arrest on 23 April 2014. Redha's family reported that they noticed several marks of torture on Redha's body. They stated that they could see bruising, scratches, and lacerations on his chest that appeared to have not been treated. Redha also reported that he had severe pain in his ear as a result of torture.
Redha was brought to the family visit twenty minutes late. His hands and ankles were shackled and attached together, which did not allow him enough mobility to hold the phone without crouching. The family was not allowed any privacy: Redha and his family were both surrounded by four police officers and because they were separated by a thick glass barrier, they had to conduct their conversation through a phone. The family's conversation was also broadcasted through speakers in the room.
Since his arrest, Redha has been in been placed in solitary confinement in a medical isolation ward where he is constantly guarded by Special Forces commandos. He told his family that he has not been allowed to shave, shower, or obtain personal hygene products since being detained, despite an order from Officer Jassim Al-Mulla on 12 May 2014 that he be allowed to.
Redha's sister stated that she had phoned the prison for three consecutive days prior to the family's first visit, but a police officer reportedly told her that Redha refused to speak to them. During the family's first visit on 15 May 2014, Redha reported that he had not been permitted to call or have visits.
The family also reported that they deposited money for use at the prison store into Redha's account on 15 May 2014; however, yesterday the family was informed that the transfer was not completed.
----
The Bahrain Center for Human Rights expresses grave concern in regards to the health and well-being of Hassan Sabah Al-Banaa, Redha Al-Ghasra, and seven others (listed below) arrested by the Bahraini government on Wednesday, 23 April 2014. Al-Ghasra's family informed the BCHR that they received a seconds long phone call in which Al-Ghasra was only able to say hello and that he was fine before the line was cut; a member of family reported that Al-Ghasra's voice sounded very weak. The BCHR has documented a pattern of these types of telephone calls as a common practice during episodes in which the detainees report that they are subjected to torture.
The family protested outside the Criminal Investigations Department on the day of his arrest. Officers outside the building threatened the family, stating that if any pictures of their protest in front of the CID is broadcast, Al-Ghasra will not be allowed to contact them. The photo below, of Al-Ghasra's mother, is included at the specific request of the family.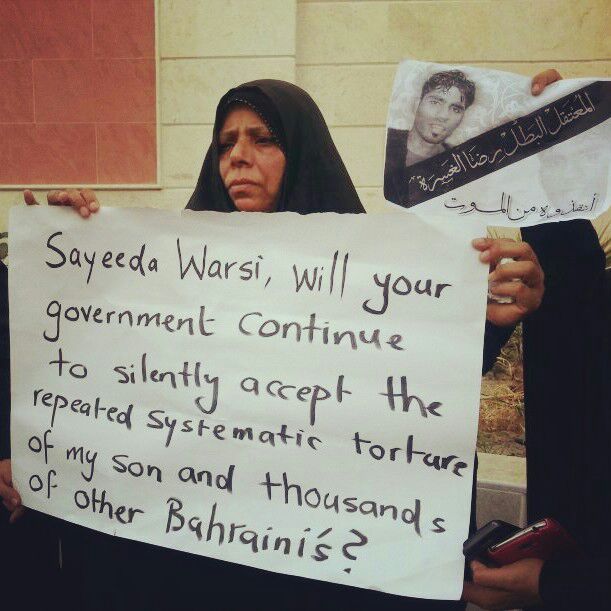 Al-Banaa and Al-Ghasra reportedly escaped from Jaw Central Prison at three o'clock in the morning on Tuesday, 22 April. While serving his prison sentence, Al-Ghasra was reportedly denied rights allocated to other prisoners. He had his hands and feet chained, and was not allowed access to books nor able to purchase supplies from the prison store. During his entire imprisonment period, Al-Ghasra was either in solitary confinement or in a locked cell with two criminal prisoners in a three meter by two and a half meter cell, and not allowed to go outdoors or interact with other political prisoners.
Given the previously documented force used against Al-Ghasra, and the pattern of arrests and subsequent systematic torture documented by the BCHR, the BCHR believes he is at serious risk for ill-treatment and torture. Prior to his 22 May 2013 arrest, Al- Ghasra was arrested twice, once in May 2011 and again in April 2012. During his last arrest, Al-Ghasra refused to speak of the worst torture he endured. However, he did give details including how everyday during his reported torture, all the officers present would spit into his mouth. He was also subjected to beatings on his face that resulted in several broken teeth as well as beating with sandals on his face that resulted in swelling that lasted for approximately two months. The severe swelling was witnessed by his family during their first visit to Al-Ghasra. Al-Ghasra told sources who spoke to the BCHR that during the torture he was subjected to he would reach points during which he "would wish for death." Even when the torture stopped, he was in continuous pain. From the date of his arrest to the date of his escape, he was not allowed access to any kind of medical treatment.
The Al-Ghasra family has been repeatedly targeted by the authorities. Their home has been subjected to at least 70 house raids in a two-year period [1]. Two of Al-Ghasra's brothers, Sadiq and Hassan, both under the age of 21, are currently in juvenile prison, and two of his other brothers are exiled and unable to return to Bahrain.
In a video capturing sound reportedly made during his May 2013 arrest, Al-Ghasra can clearly be heard screaming from severe beating. In December 2012, the government's targeting took a reportedly more serious turn when Al-Ghasra was fired upon by the security forces at close range with shotgun pellets. Both he and his friend, Aqeel Abdulmohsen, were targeted with a gunshot from a close distance that led to his injury in the shoulder, while Aqeel's face was dramatically injured [2].
Warning: Graphic Content
Link to the photo of Abdulmosheen's injury.
Bahraini officials also arrested Sayed Mohammed Sayed Mohammed, Ahmed Saeed Ali Zahair, Hassan Ali Hussain, Hussain Jassim Ali Jassim, Sayeed Alawi Sayeed Taleb, Ahmed Maatouq Ebrahim Ali, and Jaffar Ali Mattouq, who is blind; all of these individuals were previously wanted by the Bahraini government. Following his arrest, Al-Ghasra's father and brother were called in for interrogation by in relation to his whereabouts, their lawyer announced hours later their release.
The BCHR believes that due to unsatisfactory prison conditions, previously documented cases of torture and excessive use of force, and psychological intimidation, the lives of Al-Ghasra, Al-Banaa, and the seven other arrestees' lives are potentially at great risk.
The Bahrain Center for Human Rights calls on the United Kingdom, the United States, and all other close allies of the Bahraini government to pressure the authorities in Bahrain to:
Immediately release Al-Ghasra, A-Banaa, and all other prisoners who are held on politically motivated charges due to the ongoing popular protests for freedom and democracy;
End the practice of torture and excessive use of force and uphold Article Five as a signatory of the Universal Declaration of Human Rights;
Adhere to the Standard Minimum Rules for the Treatment of Prisoners and end the practice of denying prisoners fair treatment.
The BCHR holds the Bahraini authorities responsible for the life and well-being of Redha Abdullah Isa Al-Ghasra, Hassan Sabah Al-Banaa, Sayed Mohammed Sayed Mohammed Ahmed Saee Ali Zahair, Hassan Ali Hussain, Hussain Jassim Ali Jassim, Sayeed Alawi Sayeed Taleb, Ahmed Maatouq Ebrahim Ali, and Jaffar Ali Mattouq.
[1] http://www.bahrainrights.org/en/node/6146
[2]http://manamavoice.com/index.php?plugin=news&act=news_read&id=11436, http://bahrainrights.org/en/node/5551